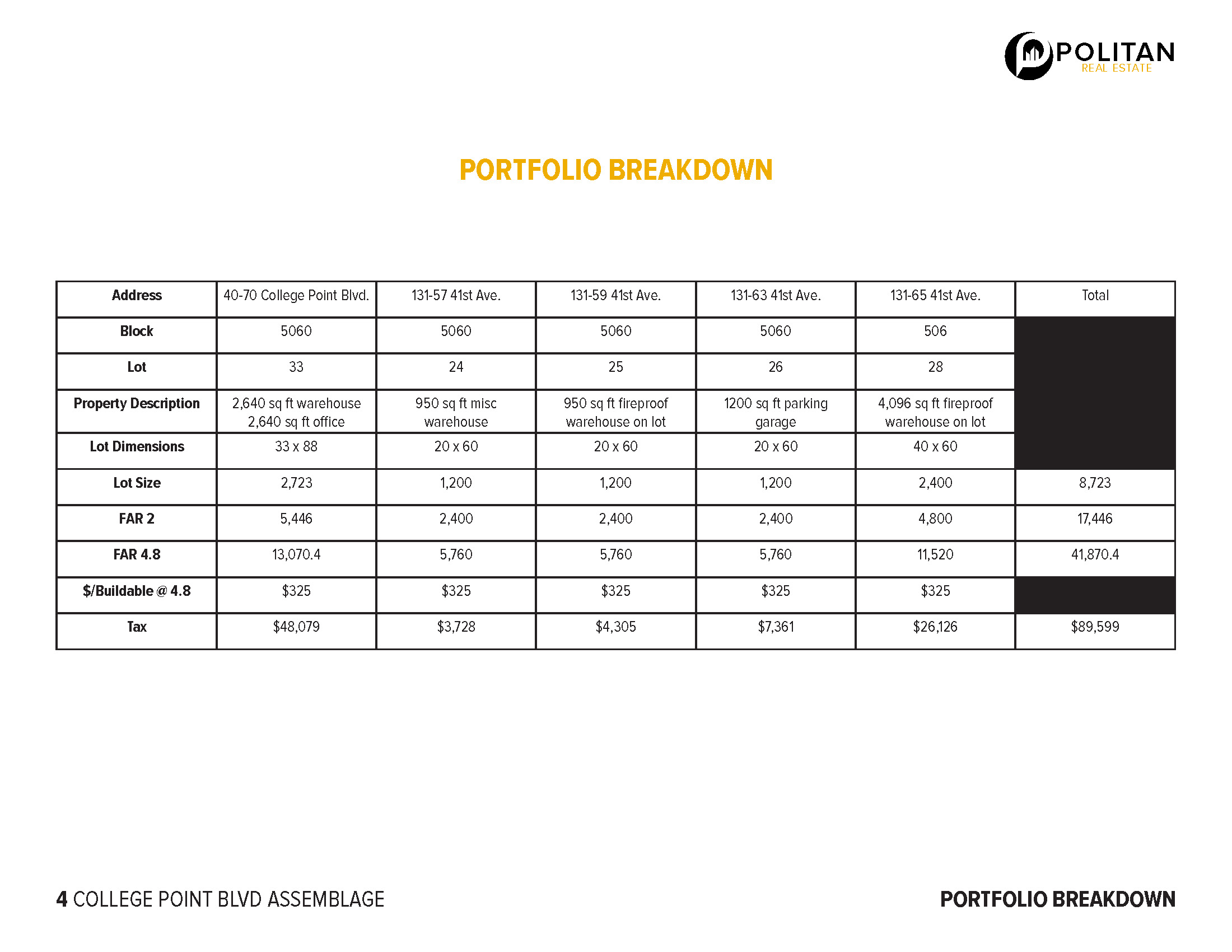 5 LOT ASSEMBLAGE ON COLLEGE POINT BLVD
FLUSHING, NY 11355
EXECUTIVE SUMMARY
Politan Real Estate is pleased to present 40-70 College Point Blvd & 131-57—131-65 41st Ave, Flushing, NY 11355. The offering consists of a portfolio of 5 lots right in Downtown Flushing. 4 of the lots are adjacent and the 5th lot is the corner of the same block. The portfolio has approximately 8,723 sq ft. in combined lot size, has a commercial buildable of 17,446 and a facility buildable of 41,870.
It is just a few blocks away from the busiest intersection in all of Queens, Main St. & Roosevelt Ave. and is located in a designated economic opportunity zone, which qualifies for tax incentives added to the tax code by the Tax Cuts and Jobs Act on December 22, 2017. This is the perfect opportunity to secure a development site in one of the fastest developing neighborhoods in NYC.
The heart of downtown Flushing is also the neighborhoods major transit HUB. It services the last stop of the 7 subway line, 20+ bus lines and the Long Island Rail Road.
Flushing is home to many national brands' top performing stores. Companies like Starbucks, Dunkin' Donuts, Chase, Bank of America and McDonalds are just a few of the companies that have opened multiple locations within a 5 block radius. Flushing is also designated by the city to have Business Improvement District status.
For more information on Flushing, please inquire about Politan's most recent Flushing Business Report.
Listing Agent
Michael Wang | Partner
mwang@politangroup.com
Addresses
Location
Block & Lots
Use
Total Lot Square Footage
Buildable Sq. Ft
$/BSF
Commercial FAR
Facility FAR
Zoning District
Transportation
4070 College Point Blvd, Flushing, NY 11355
131-57, 59, 63, 65 41st Ave, Flushing, NY 11355
Downtown Flushing
05060/0033-0028-0026-0025-0024
Development Site
±8,723 Sq. Ft
41,870.4 Sq. Ft
$325
2
4.8
M1-2
7 Subway Line, LIRR, 10+ Bus Lines